Berlin By Numbers
Berlin, November 2006
---
How it works
---
Photo
Photo of 3 young tourists next to the Siegessäule looking at BBNO on a mobile phone. This is available in 4 sizes: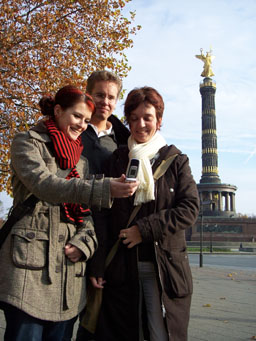 256 x 341 (45 KB)
512 x 683 (129 KB)
1024 x 1365 (373 KB)
2142 x 2856 (2.58 MB)
With many thanks to the three young people concerned.

The press release in PDF format (in German).
---
Mobile phone image
Simulated appearance on mobile phone of BBNO page on the Siegessäule.
You can copy and paste this image or use the right hand mouse button to save the image as a file.
There is an online emulator http://www.wordwise.de/emulator_de.htm in German and http://www.wordwise.de/emulator.htm in English. Note that the default display font size affects the image in the mobile phone. For a more realistic view with the emulator, temporarily turn down your font size (e.g. with Ctrl -, or Strg -)